About us
The Cystic Fibrosis Center provides diagnosis, treatment and ongoing management of all aspects of cystic fibrosis in infants, children and young adults. The Center is accredited by the National Cystic Fibrosis Foundation as a diagnostic, treatment, teaching and research facility and adheres to the National Cystic Fibrosis Foundation standard of care. The Center is actively involved with clinical research.
We treat:
Cystic fibrosis related pulmonary and gastrointestinal components
Cystic fibrosis related metabolic syndrome
Pancreatic insufficiency and failure to thrive
Cystic fibrosis related sinus disease
Cystic fibrosis related diabetes
What to expect
We are focused on providing the best possible care for your child. This begins with a complete medical history and physical examination and diagnostic procedures for cystic fibrosis, including:
A sweat (chloride) test to measure the amount of chloride. Higher than normal amounts of chloride may suggest cystic fibrosis
Blood tests that look for mutations in the cystic fibrosis TR gene
Chest X-rays
Pulmonary function tests that help measure the lungs' ability to exchange oxygen and carbon dioxide appropriately
Sputum cultures to determine if an infection is present
Stool evaluations to measure fat absorption
Pancreatic function assessed by blood and stool tests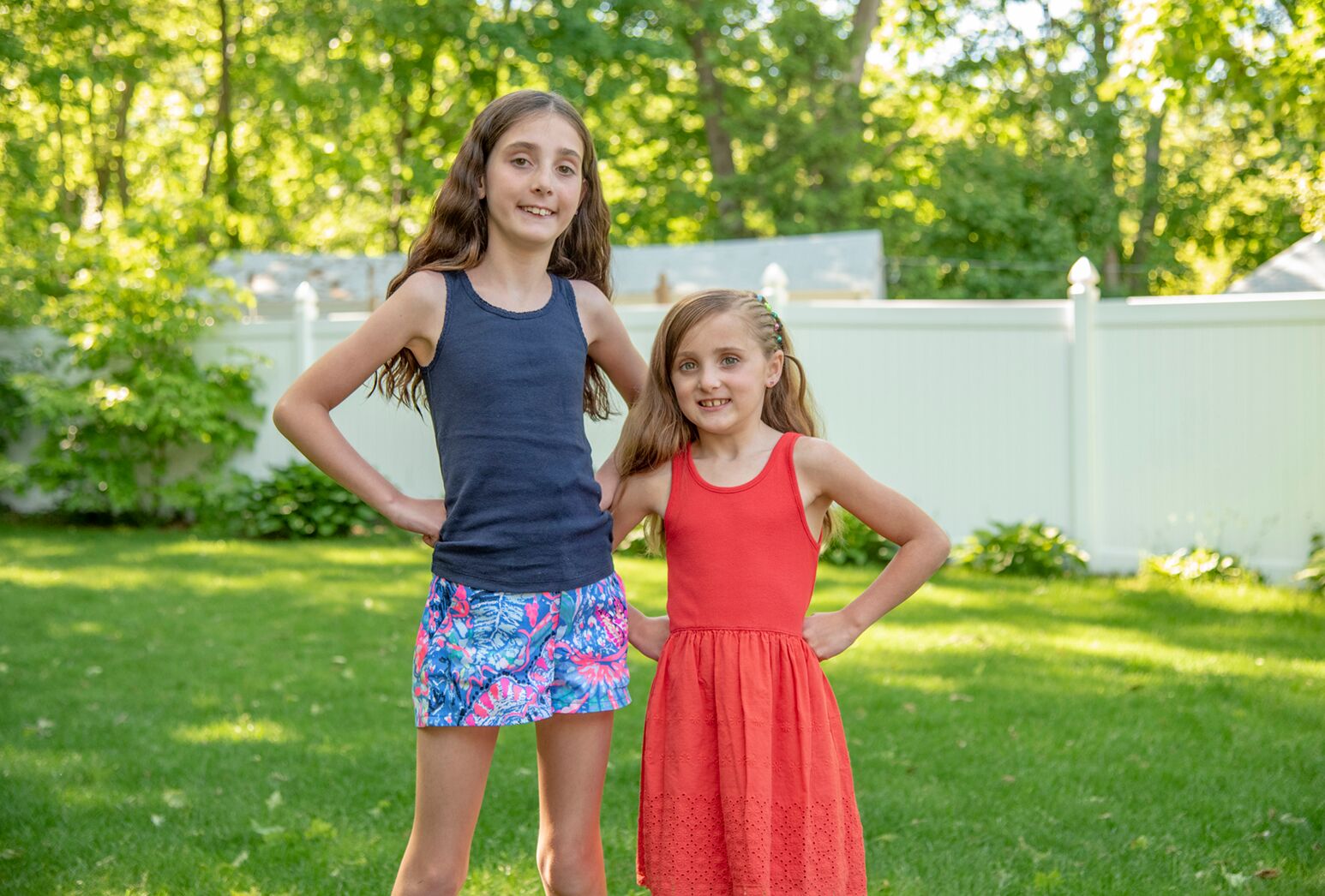 Sisters Matison and Charlotte Kindelmann were both born with cystic fibrosis. Their lives are filled with medical appointments and treatments—but also with lots of fun, thanks to the expert, kid-friendly care they get from the team at Cohen Children's Medical Center.
Inspiring stories
Madalyn, Frankie-Lynne & Kate
Madalyn, Frankie-Lynne and Kate Conklin appear to be like any other girls their age. They attend school regularly, play sports and go on family vacations. Maddy, Frankie and Kate also battle cystic fibrosis (CF) every day of their lives. In 2005, after the birth of Kate, all three girls were diagnosed with this life-threatening disease. They are being treated and followed closely by Dr. Joan DeCelie-Germana and the Cystic Fibrosis Care Center. Daily medication and therapies are needed to prevent lung damage and to keep them feeling well. At times the girls require hospital intervention and home health care.

Living with CF has become a part of the sisters' daily lives. They recognize the importance of completing daily medications and therapies, which have become part of their daily routine. When asked how CF affects them, they all stated that they try not to let it do so. However, they do have to sometimes miss parties and events due to the illness. Sometimes they are late for events because they have to take medications or complete their therapies. The girls also try to avoid being around friends who are sick or crowds to decrease their chances of becoming ill.

Having CF has made Madalyn, Frankie and Kate aware of the importance of finding a cure and becoming involved community members. The girls actively support organizations to fight CF. They have participated in numerous Cystic Fibrosis Foundation fundraising events, including Great Strides walks and comedy nights. They can be found supporting the Breath for Britt Foundations, which supports families with CF, or on a football field being recognized by Boomer Esiason for their ongoing support to CF causes.

Maddy and Frankie embrace opportunities to attend and volunteer at Make-a -Wish events. They have attended golf outings, luncheons, bowling parties and an annual black-tie dinner to celebrate fundraising efforts. One of the girls' favorite events was the 2010 Polar Plunge. Maddy and Frankie also had the opportunity to speak on behalf of Cohen Children's CF Care Center on WCBS radio.

Each of the sisters has participated in trial drug studies. Frankie devoted a year to participate in a trial drug study to help children with cystic fibrosis. Maddy was featured in a video for the Novartis drug company promoting CF drugs. Kate can be seen in the children's hospital's journal highlighting the CF Care Center.

Having CF has had a tremendous impact on these girls' lives. However, it has also helped mold Maddy, Frankie and Kate into caring young ladies who enjoy getting involved in meaningful organizations whose goals are to improve the quality of all children's lives.
Transition clinic
Our new transition clinic has an adult pulmonary Cystic Fibrosis doctor attend the pediatric cystic fibrosis clinic approximately twice a month. The adolescent pediatric patient meets this doctor who they will eventually transition their care to once they enter adulthood, between ages 18-21 years. These visits allow the patient and parents to become familiar with the doctor, answer any questions they may have and address concerns.
Research & clinical trials
The Cystic Fibrosis Center is often recruited to participate in FDA and non-FDA approved drug trials. Depending on personnel, time, availability and specific criteria, you and your child may be invited to participate.